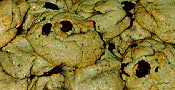 1 stick Crisco-bar or 2 sticks butter (16 tablespoons total)
1 teaspoon baking soda
1.5 cups brown sugar (may substitute white sugar)
a couple glops of honey or maple syrup
2 eggs
a gurgle of vanilla (2 tablespoons if you're picky)
a hefty sprinkling of cinammon
optional nuts (I like walnuts)
a bunch of chocolate chips (half a bag? -- don't feel compelled to use as much as they suggest on the package -- they're just trying to sell chips)
2.5 or so cups of flour

Note: In order to fully duplicate the experience of home-made Tom's cookies, you must also add a special *surprise* ingredient, which can be anything which seems like it might taste good. options include: a squirt of root beer (add it right before the flour), a dash of ginger, ground nuts (peanuts, pecans, or whatever), .25 cups whole-grain cereal, a small handful of vanilla/butterscotch/mint chips, a heap of cocoa powder, etc. Be creative!

Melt Crisco in a large bowl. Add in everything but the flour (but don't add the chocolate chips in while the Crisco is still hot, or they'll melt).
Mix. Add flour.
Mix some more. Mixing may be accomplished with a contemporary wooden spoon or through the old-fashioned method of sticking your hands in and really working the dough (old method has the benefit of being able to lick your hands clean afterwards -- wash hands thoroughly).
Add extra flour until a few chocolate chips don't quite stick to the dough -- this will achieve the right consistency.
Drop little clumps of dough onto baking sheet (don't use a spoon or else you won't be able to lick the dough off your fingers afterwards. don't roll them into balls or else they won't have that homemade awkwardness of shape).
Bake 9-10 minutes at 375 degrees F. Don't overcook -- Tom's cookies should come out slightly undercooked for that delicious chewy texture.

This and the other cookie recipes make about 20-40 cookies depending on how big you make them and how many you eat. Let me know how it goes.

Also, Stephanie's cookie secrets won't do you wrong. She recommends butter, which works fine for me, though I find Crisco cookies come out tasting smoother.

And if you're uncomfortable with my carefree measurement technique, you are probably one of the people that this recipe was intended for.