Tom's Art Gallery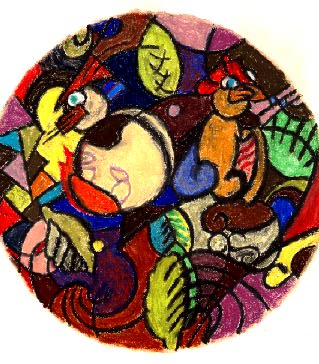 Medium: oil and chalk pastel
Size: 10"x10"
The Chicken-Cookie series was created for a drawing class. We had 15 minutes or so to walk out on the Manhattan streets and find something/anything to draw, and I picked a chicken-cookie.
This is my favorite of the entire series. I wanted to give up all notions of spatial structure and lay out the chicken cookies and mint leaves in a jumbled but tight design of interrelationships. The oil pastel provides the outlines and keeps the chalk from smearing for an intriguing stained-glass effect. I loved this approach so much, I've continued to do other pieces in a similar style. This one has also been chopped at the edges because of my narrow scanner.